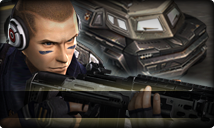 Battle Rush is a PvPvE mode in Counter-Strike Online.
This is 'Player VS. Player VS. Environment (PvPvE)' mode that splits everyone into two teams to accomplish the goal.
CT: Convoy prisoner transport car by destroying any obstacles along the way and reach the destination safety.
TR: Interrupt the prisoner transport car from reaching the destination and dismantle all bondage devices to rescue the boss.
Tip: Battle point will decide the winner when time is over.
Compatible map
Edit
Special mission
Edit
| Mission | Description | Task |
| --- | --- | --- |
| [Battle Rush] Urban Assault Operation | Gentleman, Experimental Object Transport Operation has been begun. Currently, the battle is getting intense, we need a backup force. it's very urgent, you should: Get yourself ready with your gears and move to the Transport Operation Area. Over. Only available for 4 or more players in a room. If the reward has not been claimed, it will be gone when the system resets. | Kill 100 enemies in Battle Rush mode |
Honor mission
Edit
| Mission | Description | Task |
| --- | --- | --- |
| [Into the Fire] | Gentleman, finally it is the time for you to show the result of your tough training in Battle Rush. Complete the mission and safely return. This is only available in rooms with 6 players and above. | Explode 150 obstacles as a CT and dismantle 100 bondage as a TR |