r.
Race to your final destination by following the designated road and clear all enemies.
Purchase or upgrade your weapons by pressing 'B' keyboard button in the shop area.
You will auto revive in 60 seconds after your death or when you start a new round.
If your team was annihilated and failed to complete the mission, you can press 'R' keyboard button to use round retry item.
There is a maximum dollar benefit to the person who uses the round retry item.
You can recover your HP by pressing '5' and '6' keyboard button and 'R' keyboard button for instant revival.
Each consumable item has a cool down period before reusing it.
Ranking is only recorded if you select $800 as a minimum possession amount. You are unable to use item related with revival.
You can press '7' keyboard button to build auto turret or press 'E' keyboard button for airstrike.
Transcripts
Edit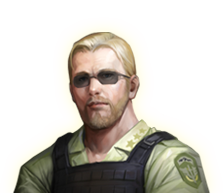 Third squad! Third squad! Can you hear me? This is Commander Victor.
We are reaching the operation area, but something is not right. The surrounding is too quiet to be true.
We will start Hellfire plan right now. Be careful with any sudden attack.
It looks like we have been exposed. Break through the security before more enemies rush over!
Some passages have been blocked with obstacles.
But it does not look that solid to our weapons, let's destroy it.
There are enemies all around.. Darn it, is this a trap?!
I think I can distract heir bombing for one more time.
You can request for airstrike, so try to utilize it properly!
We will advance to the entrance of the city to meet up with our comrades.
I hope you are still breathing till then.
You will get a Pilot Tag after succeeding this pursuit.
Pilot Tag
Edit
The second data of the three. Comanche pilot's affiliation information has been written down in this identification tag.
Achievements
Edit
Honor mission
Edit
| Mission | Description | Task | Reward |
| --- | --- | --- | --- |
| Comanche Hunter | Gentleman, do you know a method to destroy high-tech weapon? It is pretty Simple, Hit and Run!! If you have the ability to aim straight at the enemy's weak point, you'll notice that even an astronomical figure price weapon is just a scrap iron for a noob! Available in Annihilation: Desert Storm/Pursuit: Hellfire maps. | Defeat Comanche for 100 times | |
Community content is available under
CC-BY-SA
unless otherwise noted.